HELLO SHOPPERS!
**********************************************************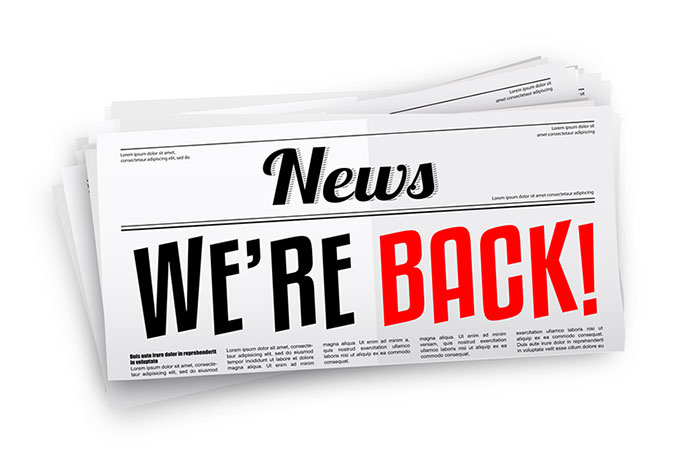 React CX Shopper Update September 2020
We've obviously kept in touch with our clients throughout this unprecedented period, and the future is certainly looking more positive than it was in May! We're delighted to announce that we've been in more detailed discussions with our clients over the past month or so and all have indicated that they hope to work with us again in the future. Some clients have been harder hit than others, which we can fully empathise with as we've taken such a hard hit ourselves, so the re-start timings will vary widely.
The impact of the pandemic has forced us to restructure our Head Office team and we're envisaging that we'll all be operating on reduced hours for the rest of 2020. That said, we'll still be able to fully support all fieldwork throughout this period. Email and phone options will be provided with each set of project guidelines issued.
All shoppers carrying out visits for us from September onwards will be asked to read and sign our 'Safe Covid Working Guidelines' document which can be found within individual extended shopper profiles. Shoppers will not be able to apply for any assignments unless this document has been read and signed.
Wishing you all continued good health. Your safety is our number one priority.
*********************************************************
18/03/2020 - It is with immense sadness that we must announce the passing of our beloved Ted Bartlett last night after a short illness, not Covid-19 related.
As many of you know Ted has been a proud and highly valued member of the React scheduling team for the past 25 years, having previously worked for Lodge Service since 1970.
We couldn't have asked for anyone more committed or more caring than Ted proved himself to be.
As both a friend and colleague, we will miss him terribly.
Please can we ask all shoppers to respect that this is a very sad time for us at the moment and do not call in to the office to talk about Ted, but feel free to send us emails.
**********************************************************
WOULD YOU LIKE TO BECOME A GOLD SHOPPER?
We are offering people the opportunity to be a Gold Shopper and help to reach it.
If you feel you should be a Gold Shopper but have not been awarded it, then please email field@reactcx.com and we will look into it for you. We do appreciate this is hard to reach in some areas and have made exceptions to this rule so if you feel you deserve to be a Gold Shopper then please do ask.
To become a Gold Shopper, you need to have completed at least 80 jobs and have a rating of 9 or above.
Please also note, if you aren't a Gold Shopper, you can still apply for jobs and after the 24 Hours access to the Gold Shoppers is up. They will be allocated through applications so you don't have to miss out!
**********************************************************
SASSIE DOWN TIME
Regular Sassie maintenance occurs on the 2nd and 3rd Saturdays of each month at 2AM GMT. Sassie will be taken offline for maintenance, performance enhancements and security measures for up to two hours. We apologise for any inconvenience.
**********************************************************
REMINDERS
- Jobs are being added to our job board all the time, remember to check on a regular basis so you don't miss jobs near you. Don't forget to include UK in your search i.e. Carlisle UK, otherwise you will not see all the jobs that might be available.
- Add us to your email address book or "known" list so that our messages don't get treated as spam or trash.
- You may find this Sassie link faster - www.uk.react-international.com - Have a go.
- Do you have any general comments/questions or suggestions? We are all ears, please email hello@reactcx.com
**********************************************************
RECOMMEND A FRIEND
We are looking for new shoppers in the following counties: Aberdeenshire, Angus, Antrim, Argyll and Bute, Ayrshire, Bedfordshire, Berwickshire, Buckinghamshire, Cambridgeshire, Cheshire, Clackmannanshire, Clwyd, Cornwall, County Antrim, County Down, County Durham, Cumbria, Derbyshire, Devon, Dorset, Dumfries and Galloway, Dunbartonshire, Dyfed, East Lothian, East Sussex, Fife, Guernsey, Gwent, Gwynedd, Hampshire, Herefordshire, Hertfordshire, Highland, Inverness-shire, Isle of Bute, Isle of Wight, Jersey, Kent, Lanarkshire, Leicestershire, Lincolnshire, Norfolk, Northamptonshire, Northumberland, Oxfordshire, Peeblesshire, Perth & Kinross, Powys, Ross-Shire, Roxburghshire, Scottish Borders, Shetland Isles, Shropshire, Somerset, South Glamorgan, Staffordshire, Stirling, Suffolk, Tyne & Wear, Warwickshire, West Glamorgan, West Lothian, West Midlands, West Sussex, Wiltshire, Wirral, Worcestershire & Yorkshire.
Plus The Republic of Ireland - Dublin, Cork, Kildare, Galway, Limerick, Monaghan, Wexford.
If you introduce one of your friends in these counties to us and they successfully do a job in one of the areas above, YOU CAN CLAIM A £10 INTRODUCTION FEE. All your friend needs to do is sign up to the system and mention your name in their extended shopper profile.
**********************************************************
CONNECT WITH REACT
Facebook
|
Twitter
|
@reactmysteryshopping
**********************************************************